So this is it.
I was born in 1955 and studied in Nantes. I vaguely did the School of Commerce where I was told about free enterprise. I thought it was a path of freedom so I started.
First by opening an insect restaurant in Angers. People tasted them on glass tables that housed spiders or reptiles. We had a butterfly tree. But in the first winter the electrical system flinched and the insects died.
I then went to Dubai where I opened "French Furniture" a furniture and decoration store Regence and Louis XV.
Three years later I returned to France and I became a producer of shows. I work on tour with Nougaro, Ferré and especially Higelin. In 1985 I stop the show business. I am 30 years old, two children and I did not find in the company the freedom of which I dreamed. Everywhere constraints.
I then join an insurance company in Paris and I start the sculpture Arman way: assembly and accumulations. In 1995 I created a sculpture based on electronic components that I call Cybertrash. I am immediately welcomed at the Arnoux Gallery in Saint-Germain-des-Prés and I'm going for 25 years of creation with this style!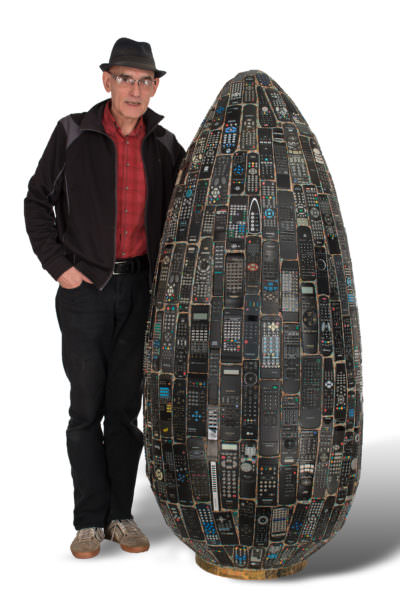 First in my two rooms in Aubervilliers then in Paris in an underground parking place of Italy. In 2002 I became a professional and moved to Grasse on the Cote d'Azur. I exhibit permanently in Saint-Paul-de-Vence and Monaco. In 2007 I have 4 assistants and sales are multiplying. There are Russians, Americans, Germans, Swiss, Dutch … Everyone wants, to Singapore!
Then comes September 2008, the Madoff affair and the beginning of the crisis. Everything stops suddenly. No more sales. I react by multiplying the exhibitions but nothing helps. Everything is blocked. In early 2011, exhausted financially, I take refuge in the family home of Nantes where I install my workshop.
With time, little by little, the market has picked up again and customers have come back. Today is a bit like before. I have assistants again, the sculptures are a little better and above all I still have faith … I still believe it very much ..
Nantes (France),  May 2019.